Welcome to the Fine Arts Gallery
The Fine Arts Gallery presents both professional and student-oriented exhibitions every semester. Professional exhibitions are organized to spotlight the range and diversity of both contemporary and historical art.

Announcements and Exhibitions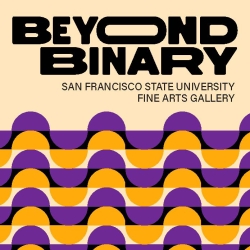 Current Exhibition
Saturday, September 17, 2022 to Thursday, October 27, 2022
Opening reception: Saturday, September 17, 1 to 3 p.m.
Beyond Binary focuses on the exploration of a gender spectrum, across cultures and generations, in the formation of personal and collective identities and visual narratives. Beyond Binary celebrates trans and gender-nonconforming artists who engage the body as both a form and site of social sculpture and who challenge established narratives of art history to become more inclusive, while working across media and transdisciplinarily.
Participating artists: Cassils, Zulfikar Ali Bhutto, Craig Calderwood, Wells Chandler, Jeffrey Cheung, Ben Cuevas, Demian DinéYazhi', Nicki Green, Juliana Huxtable, MCXT (Monica Canilao + Xara Thustra), E. "Oscar" Maynard, Vivek Shraya, Beatrice L. Thomas aka "Black Benatar," Eli Thorne, Alok Vaid-Menon, Chris E. Vargas, Leila Weefur, J Wu, and Asri Wulandari.
Reserve free tickets with this link to visit during regular gallery hours, Tuesday through Friday from noon to 4 p.m., from September 20 through October 27.
This exhibition is made possible by major funding from the Andy Warhol Foundation for the Visual Arts, and support from SF State's School of Art and Instructionally Related Student Activities Fund. The public programs are supported by an Extraordinary Ideas grant from SF State's College of Liberal & Creative Arts.
Learn About the Gallery
The vision of the Fine Arts Gallery is to serve a broad and varied audience that includes students, faculty and staff of the University, along with the local arts community and the greater population of the region, while carrying out a program that reflects the range of disciplines taught by San Francisco State University's School of Art.
The mission of the Martin Wong Gallery is to provide San Francisco State University's student artists the opportunity to exhibit works and organize and present exhibitions. This program is made possible through the generous support of the Martin Wong Foundation and SF State's Instructionally Related Student Activities Fund.
The Fine Arts Gallery program typically features group exhibitions conceived by School of Art faculty that explore different dimensions of California contemporary art, annual student exhibitions and a faculty exhibition once every four years.