Luke Damiani: Between Spaces
Monday, January 26, 2015

to

Monday, June 15, 2015
Location: 
Administration Building, Alumni Hall Gallery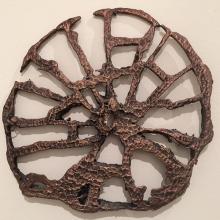 Luke Damiani is a sculptor who works primarily with found wood and cast iron. His contraptions are inspired by mankind's earliest attempts at mechanized travel and labor. His interests lie in the mythologies, narratives and histories that inherently surround these handmade inventions. His work represents an examination of process. Who is the maker? What is the made? What drives the need to invent? What endures?
Hours: Mondays through Fridays, 8am to 6pm. Reception: February 11, 4pm to 5:30pm. Free.
Damiani (M.F.A., Art, '10) has shown and taught art extensively throughout the Bay Area and was recently chosen for a community art and ecology residency in Costa Rica.
The Alumni Hall Gallery is a rotating exhibition program of work by graduates of the Master of Fine Arts program in Art. This program is made possible by support from the University's Instruction Related Student Activities Fund.