MFA Art Grads Showcase Latest Works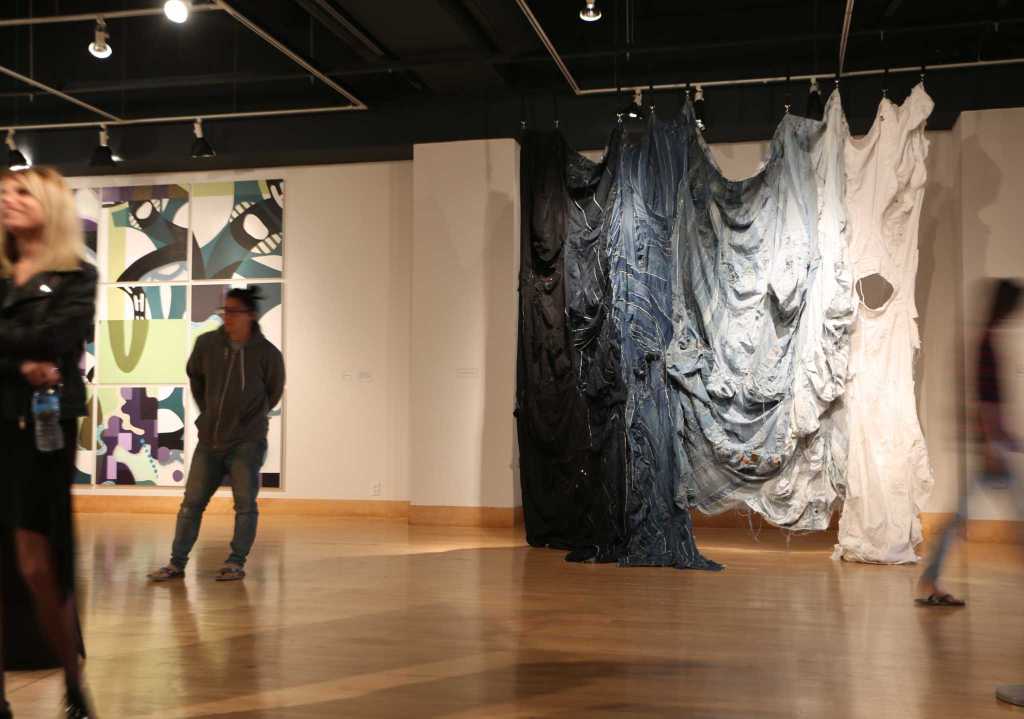 Shannon Abac's biomorphic ceramic sculptures, dripping in glossy color, mingle with nearby woven textiles by Kimberly Arteche, depicting deliberate, close crops of pixelated photographs in muted, warm tones. Leah Virsik's suspended forest of deconstructed denim jeans, imposing and comforting, hang in a giant, perfect cube near Nash Bellows' floor-to-ceiling grid of paintings with layers of curving shapes, sharp edges and a self-contained visual language of organic pattern and color.
"I love the way it works together as a show," said Virsik, who had an eye on SF State's School of Art for years prior to attending. Once there, she found the teachers to be amazing and the tuition affordable.
The 2016 MFA Thesis Exhibition showcases works by the four artists graduating this spring from the SF State School of Art's Master of Fine Arts program, and had its campus reception Thursday, April 21. The exhibition features a dynamic presentation of sculpture, textile, painting and installation art with works by Arteche, Abac, Bellows and Virsik.
Mark Johnson, SF State instructor and director of the Fine Arts Gallery, said this may be the smallest graduating class the program has ever seen.
"People in the Bay Area live in a difficult economic reality right now," said Johnson, who sees the lower enrollment in arts programs as part of a larger trend. Johnson's own alma mater, UC Berkeley, had a graduating class of six MFA students this year, down from 25 in his graduating class.
The small class size was a boon to this exhibition, allowing the art to exist dynamically in the space, both as stand-alone works and together in conversation. Colors, shapes, textures, themes and styles were enlivened by proximity and location.
"In years past, it's been like one artist's work in this corner, one artist's work in this area – very split up," Abac said. "We didn't want the show to be like that; we wanted it to be more integrated."
The cohesion of the exhibition is also a testament to the skill in curation and installation – a collaborative effort between the artists and students of an exhibition design class taught by Johnson.
"It was nice to actually work with the artists themselves," said Michelle Kim, an art history major and student in the exhibition design class who worked with Virsik to install her work. "They were here every day."
Kim said her experience installing the show inspired her to possibly pursue a graduate degree in curatorial studies.
"It's very tastefully done," said attendee Sarah Heady, who has a graduate degree in writing from SF State. "Every piece gets an equal measure of attention, and I appreciate that."
The four artists had varied perspectives on whether their shared experiences through the course of the program impacted their work.
"It's kind of serendipitous," Arteche said. "We're a small class compared to the other classes, but I wouldn't necessarily say we're all working together or we have a lot of the same ideas. It's not like we made things to respond to each other's work. Probably the one thing that influenced each other was color. I don't think I would have been making things with this type of color."
"It's hard to be next to someone for three years and not get influenced by what they're looking at and talking about, and we all bounce ideas off of each other," Bellows said. "They all have weird little connections that I wouldn't necessarily notice separately, but now that they're all in the same room, it's easier to pick up on."
The exhibition is on display through May 14 in the Fine Arts Gallery. In-gallery artist talks are scheduled for Thursday, April 28 from 12:10-1 p.m.
Photo documentation of the exhibition installation process can be viewed here.