Platform Speaker Series: People's Kitchen Collective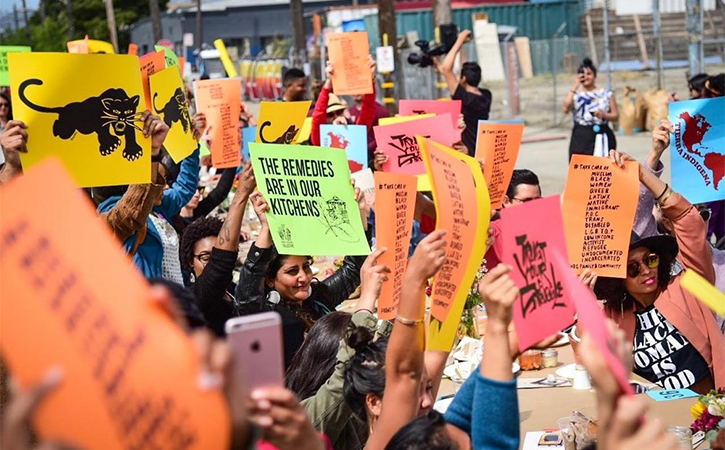 Platform: an event series of socially engaged artists, collectives, and curators in conversation. Presented by ConSortiUm, a collaborative project of California State University art galleries and museums. 
USE THIS LINK TO VIEW THE RECORDING OF THE TALK
Artist Collaborative: People's Kitchen Collective
Thursday, April 29, 5:30pm
Hosted by San José State, San Francisco State, Sonoma State, and CSU San Bernardino
Register for the People's Kitchen Collective Zoom Webinar.
*All times are Pacific Standard Time (PST)
More Information on PKC:
People's Kitchen Collective (PKC) works at the intersection of art and activism as a food-centered political education project. Based in Oakland, California, their creative practices reflect the diverse histories and backgrounds of co-founders Sita Kuratomi Bhaumik, Jocelyn Jackson, and Saqib Keval. Written in their families' recipes are the maps of their migrations and the stories of their resilience. It is from this foundation that they create immersive experiences that honor the shared struggles of their people. They believe in radical hospitality as a strategy to address the urgent social issues of our time. For this talk Jackson and Keval will be joined by longtime PKC collaborator Saraí Bordeaux. http://peopleskitchencollective.com/
Image courtesy of Brooke Anderson.